Quick & Easy Healthy Dinner Ideas for Two | Fresh Recipes
Ever pondered over quick and easy healthy dinner recipes for two? Whether it's just you and your partner or a dear friend, finding a meal that's both nutritious and simple can be a challenge. It's akin to seeking a book that's both captivating and insightful. Why compromise on one when you can enjoy both? Just as you wouldn't sacrifice entertainment for enlightenment in a book, there's no need to trade taste for health in your meals.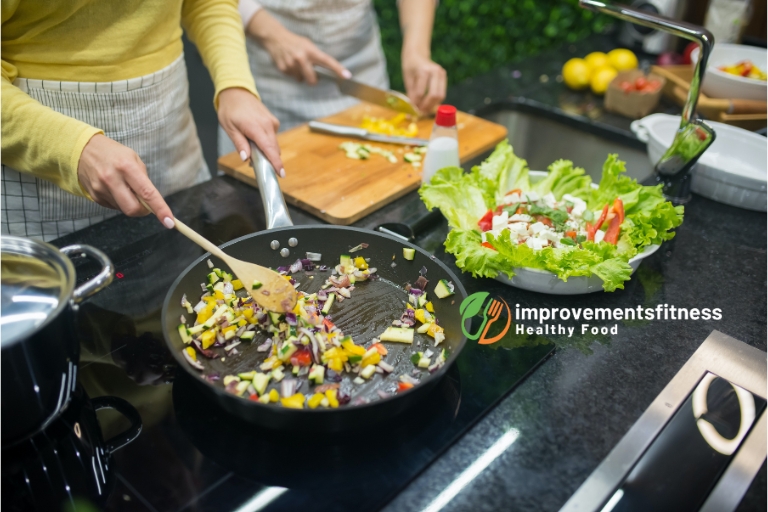 What do you say we embark on a culinary journey together, where flavor unites with health and convenience? Excited to get started?
Discover the Charm of Quick and Easy Healthy Dinner Recipes for Two
Ever realized that life's most cherished memories often spring from spontaneity? Those unexpected road trips, spur-of-the-moment dance-offs, or the sudden urge to try out quick and easy healthy dinner recipes for two. Swift culinary adventures mirror that essence of spontaneity – they're exhilarating, delightful, and yield satisfying results. The cherry on top? You don't need to be a culinary maestro to create a tasty dish in no time!
Recipe 1: Zesty Lemon Chicken Salad
Ingredients:
Chicken breasts
Fresh lettuce
Cherry tomatoes
Cucumber
Lemon zest and juice
Olive oil
Salt and pepper
Instructions:
Grill the Chicken: Season the chicken breasts with salt, pepper, and lemon zest. Grill until fully cooked.
Get the Salad Ready: Cut up the lettuce, tomatoes, and cucumber.
For the Dressing: Combine olive oil, lemon juice, salt, and pepper.
Serve: Toss the salad with the dressing and top with sliced grilled chicken.
Recipe 2: Quinoa and Veggie Bowl
Ingredients:
Quinoa
Mixed vegetables (broccoli, bell peppers, carrots)
Olive oil
Salt and pepper
Feta cheese (optional)
Instructions:
Cook Quinoa: Follow the package instructions.
Sauté Veggies: In a pan, heat olive oil and sauté the vegetables until tender.
Serve: Mix quinoa and veggies in a bowl. Season with salt, pepper, and top with feta cheese if desired.
Recipe 3: Spaghetti Aglio e Olio
Ingredients:
Spaghetti
Olive oil
Fresh garlic (sliced)
Red pepper flakes
Parsley (chopped)
Grated parmesan cheese
Instructions:
Cook Spaghetti: Boil spaghetti until al dente.
Prepare Sauce: In a pan, heat olive oil, add garlic and red pepper flakes. Sauté until garlic is golden.
Serve: Toss the spaghetti in the sauce, top with parsley and parmesan cheese.
Recipe 4: Grilled Tofu Steaks
Ingredients:
Firm tofu
Soy sauce
Ginger (grated)
Olive oil
Instructions:
Marinate Tofu: Slice tofu into steaks and marinate in a mixture of soy sauce and ginger for 30 minutes.
Grill: Heat olive oil in a pan and grill tofu steaks until golden on both sides.
Serve: Serve hot with a side of steamed veggies.
Recipe 5: Shrimp and Broccoli Stir-Fry
Ingredients:
Shrimp (peeled and deveined)
Broccoli florets
Soy sauce
Garlic (minced)
Olive oil
Instructions:
Cook Shrimp: In a pan, heat olive oil and cook shrimp until pink.
Add Broccoli: Add broccoli and garlic. Sauté until broccoli is tender.
Serve: Drizzle with soy sauce and serve hot.
The Importance of Portion Control
Remember, it's not just about what you eat but also how much you eat. Think of it like filling gas in your car. You wouldn't overfill it, right? Similarly, understanding portion control ensures you're fueling your body just right.
Tips for Healthy Cooking
Choose Fresh Ingredients: The more recent the ingredients, the more nutrients they hold.
Minimize Processed Foods: They frequently have concealed sugars and unhealthy fats.
Keep Hydrated: Consume ample water throughout the day.
Try Out Herbs and Spices: They contribute taste without additional calories.
Cooking a quick and healthy dinner for two doesn't have to be a daunting task. With the right recipes and a sprinkle of love, you can create memorable meals in no time. So, the next time you're pondering over what to cook, why not try one of these recipes? After all, good food is the way to the heart, isn't it?
FAQs
Can I substitute chicken with tofu in the salad recipe?
Yes, you can easily substitute chicken with grilled tofu for a vegetarian version.
Is quinoa better than rice?
Quinoa is considered a superfood due to its high protein content and other nutrients. While both have their benefits, quinoa offers more protein and fiber than white rice.
Can I use frozen vegetables for the recipes?
Absolutely! While fresh veggies are ideal, frozen ones are a great alternative and often retain their nutrients.
How can I make my pasta dishes healthier?
Opt for whole grain pasta, add more veggies, and limit creamy sauces.
How do I ensure my meals are balanced?
Aim for a mix of protein, carbs, and healthy fats in every meal. Also, incorporate a variety of vegetables for added nutrients.